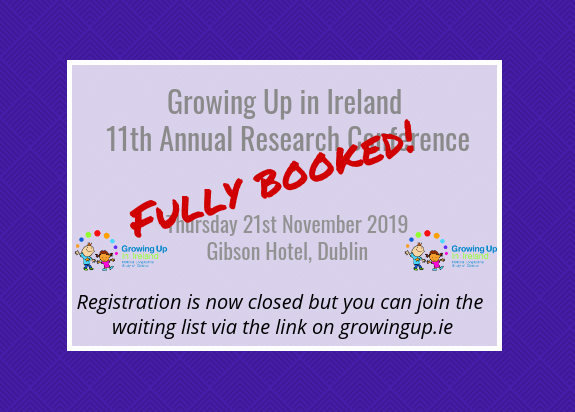 Growing Up in Ireland 11th Annual Conference – Thursday 21st November 2019 in the Gibson Hotel, Dublin
The Conference is fully subscribed and Registration has closed.
Growing Up in Ireland – the National Longitudinal Study of Children, will hold its eleventh annual research conference on Thursday 21st November 2019 in the Gibson Hotel in Dublin's docklands area.
The Conference is fully subscribed if you wish to be added to a waiting list for a place to attend click on the link below. There is no fee for the conference and places are filled on a first-come, first-served basis .
A provisional programme is available Here.
Book your place on the WAITING LIST here
The conference will focus on research based on Growing Up in Ireland (GUI) data from national and international researchers.  Minister Katherine Zappone T.D. will launch the latest findings from the Study (Cohort '98 at age 20).
The keynote address will be given by Professor Ross Macmillan, Chair in Sociology at the University of Limerick on the topic of "Culture and the socio-economic status of families: Irish exceptionalism?".
Professor Ross Macmillan is a sociologist and demographer who has authored almost fifty articles, chapters, books, and reviews and is among the most cited sociologists of his generation. His research has focused on crime and victimization, child development and the life course, family relationships, and social epidemiology.  His current research focuses on the empowerment/ marginality of historically disadvantaged groups and impacts upon population health.
Queries may be sent to gui.conference@esri.ie.
Summary videos from presenters at GUI Conference 2018